What kind of highway guardrails can we supply?
We are a professional manufacturer engaged in highway guardrails since 1992. We supply a variety of highway guardrails which can be used in different applications. This company started its activity as a private limited company in 1992 according to the needs of the electricity industry of the country and now with more than three decades of experience in the field of construction of power transmission lines, provision of lighting for highways and urban roads, and construction of concrete forms.
Meanwhile, the beam guardrails can be curved in convex or concave shape for application of road corners which straight guardrails are unbefitting.
According to the surface finish, the highway guardrail can be classified into two types: galvanized or PVC coated highway guardrail. The zinc or PVC coating makes the products anti-rust, anti-corrosion and efficiently reduces damages from severe weather. Additionally, the high quality surface treatment also extends the service life of our product due to its anti-ultraviolet and anti-aging traits.
Additionally, we also provide highway guardrail terminal ends, cable barrier end, crash cushion, guardrail post and other accessories including caps, bolts, nuts and offset blocks, etc.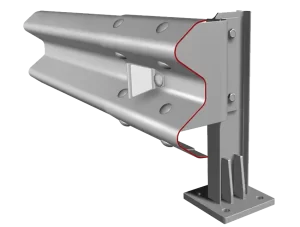 W-Beam Guardrail
Effectively Makes the Highway Safer
W-beam guardrail is a kind of road crash barrier used for securing highway safety by preventing errant vehicles from sliding out of the roads and impacting the roadside buildings or other objects. So it is most commonly fixed on the side of the highways, dock areas, aisles, especially on curves and slopes for protection against run-off-road collisions.
The W-Beam Guardrail protects assets and pedestrians from slow moving vehicles, in and around industrial and commercial complexes and car parks. These heavy-duty barrier systems can be configured to most non-highway applications and ensure pathways are segregated from potential hazards.
Rail sections specified to be installed on curves having a radius of 5 feet (1.5 m) to 150 feet (45.7 m) can be curved in our fabrication facilities prior to delivery. Rail can be curved either convex or concave as required. Terms convex or concave refer to the direction curved, outward or inward, relative to the traffic face of the rail.
W Beam Galvanized Guardrail
Hot dip galvanized.
Long service life.
Thickness and length can be customized.
Zinc coated thickness can be customized.
Our W-beam guardrail product is formed in accordance with the latest highway safety barrier technology for making sure its high durability and maximum strength. It is made of high quality steel, which reduces the impact force caused by mobile equipment to the maximum extent. Meanwhile, the zinc coating or PVC coating perfectly combined to the W-beam guardrail keeps the products free of damages of corrosion and rust.

Other advantages:
W-beam guardrails used for highway guardrails.
Easy installation: just attach the beam directly to the post, no need of blocks.
Prevent the mobile equipment from skidding off the road by redirecting it
Minimum the damage of errant vehicles
High quality material and anti-rust surface for longer service life
Corrosion resistant
Can be repaired quickly after accident
W-beam guardrails we supply
To meet the needs our customers, we supply straight and pre-curved W-beam guardrail products. Generally, straight W-beam guardrail just can be applied to the curves with a radius greater than 45m by being lined up for transitioning smoothly. For the radius less than 45m, the pre-curved W-beam guardrail product exploits its advantages to a full.
Pre-curved W-beam guardrails
The beam guardrails can be curved either convex or concave in various degree angles for different application. It is normally curved with a radius from 1.5m to 50m which refers to the traffic face of the road.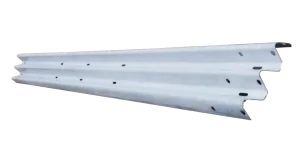 Three Beam Guardrail
a Visual Sign Implying Transition to Highways
Three beam guardrail features its shape of three waves, which has an added corrugation on the basic of traditional W-beam. Compared to two-wave shape products, this one has a stronger construction and higher impact endurance. It has been successfully impact-tested by a heavy truck and has showed its remarkable resistance against the crash force.
Three beam guardrails are used on highway
It is a perfect combination of high quality material (including Q235, Q345, etc.) and excellent anti-rust zinc or PVC coating. All of these make it outstanding at long-term corrosion and rust resistance. Meanwhile, it costs effectively and is widely used as a visual and physical barrier for protection against run-off road collision. Additionally, it is often used as a specific signs for a transition to high speed roadways, bridges, etc.
Advantages
No offset block required
Higher durability and strength than W-beam guardrails
Absorb maximum energy of the impact force
Redirect the mobile equipment as fast as it can
Visual remand of the transition to highways or bridges
Preventing the pedestrians from walking across highways ignoring the running cars
Protect the vehicles against skidding off roads, especially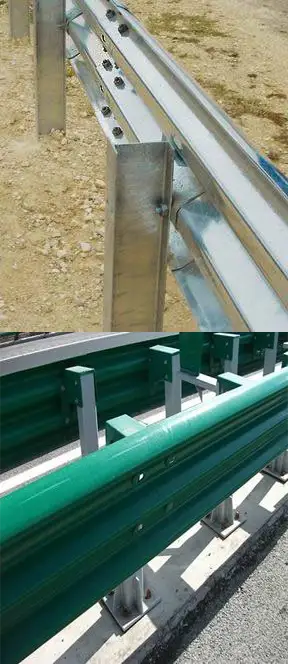 What kind of three beam guardrails can we supply?
According to the surface treatment, we can classify our three beam guardrails into two types:
hot dip galvanized and PVC coating.
PVC coated three beam guardrails.
Click to view the technical catalog of guardrail vw or three waves.
But when it comes to shapes and sizes of three beam guardrail, it must be manufactured in accordance with the specific applications. To satisfy the need of highway barrier market, our products includes the straight three and curved three beam guardrails in various sizes as your requirements. Furthermore, the connecting part that secures a smooth transition from W-beam to three beam guardrail is also available.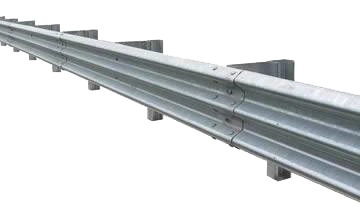 To view the full technical catalogs of guardrails and product gallery, refer to the media page.
Box Beam Guardrail
Best Choice for Beautiful Surroundings
Box beam guardrail, a kind of highway barrier, is not as common as traditional W beam or thrie beam guardrails, but it caters the need of appreciation of the beauty and is widely used not only on highways, but also in parks, picturesque bridges, etc.
The same as W-beam guardrails, it is made of high quality steel and plated with superior zinc coating or coated with PVC coating. Thereby, it is anti-rust and durable enough to endure the impact force. Additionally, there is no need of paying much money on the maintenance of the box beam guardrail, which makes it cost effectively in the long run.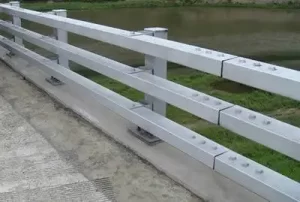 Box beam guardrails can be used on bridges.
Anti-rust
Corrosion-resistant
Durable and well-constructed
Designed to have a long service life
Can be used with or without blocks
Easy to install and repair
No need of maintenance
The box beam guardrails we supply?
According to the shape of the box beam guardrail, we can divide them into two types: square and rectangular. Meanwhile, we can also provide open box beam guardrail depends on your requirements.
Strides are continually being made in road safety engineering. Making roads safer and more efficient is the work of civil engineers across the globe. The safest option would be automating all cars around the world. Ford, Google, Mercedes-Benz, Tesla and Uber are looking at their implementation in the United States by 2021, but that is still some time away and there are still a few kinks that need to be addressed.
Consequently, engineers are in charge of producing novel approaches to road safety up until human error can be taken out of the equation.