traffic signal pole are roads and streets as the vital arteries of cities and countries that regulate the progress and traffic of general urban issues. In this regard, maintaining security and regularity of traffic is very important. This is where the " traffic signal pole " come into play as one of the basic and essential elements on the roads. Focusing on the basics of traffic, this article will give you what you need to increase safety, reduce accidents and improve orderliness in road environments. In the following, we will get to know the features, applications, technical features and optimization tips in using traffic sign bases so that you can use this vital equipment in the best way.
Basic introduction of traffic signal pole
The basis of road safety
Roads and streets regulate the flow of people and vehicles and allow free movement. But this movement and flow, if done without specific criteria and principles, will turn into a traffic chaos that endangers security. Here, the base of traffic signs plays a role as a fundamental element in maintaining safety and order on the roads.
The importance of an effective traffic structure
Generally, traffic signs are known as small signals that are installed on the side of roads and streets to guide and inform drivers and pedestrians. But the base of the traffic sign as a specialized and highly efficient road structure uses these signs and acts as a stable platform for the installation of traffic signs.
The importance of traffic sign poles
Proper and effective use of traffic signs helps to take safety measures and avoid traffic problems. These bases alone not only increase security, but also help regulate traffic and reduce irregular traffic and annoying delays. In fact, the basis of traffic signs is the most basic prevention against road accidents and traffic difficulties caused by not having proper traffic regulation.
Basic features and benefits of traffic sign pole
The base of traffic sign pole, as a representative of the progress in road construction equipment, has unique characteristics that have a significant impact on the safety and regularity of road traffic. These features and benefits allow you to use this equipment to improve your driving experience and increase safety:
Resistance to atmospheric factors: The base of traffic signs is made of resistant materials that are not affected by various weather conditions, including rain, snow, and sunlight. This feature allows the traffic signs to work perfectly efficiently in all seasons of the year and in different weather conditions.
Coloring: The base of traffic signs with clear designs and shiny colors helps drivers and passersby to see better, this feature greatly increases the visibility of drivers in unfavorable conditions such as night or rain and prevents the possibility of accidents.
Easy to install and carry: These stands are designed in such a way that they are very easy to install and carry. They allow you to install traffic signs in different places quickly and with minimal time and effort.
Long-term performance: traffic sign bases are made of high-quality and durable materials that will serve for years in harsh traffic and weather conditions. This feature assures you that the investment in this equipment will lead to long-term returns.
Reducing accidents: by improving the information to drivers and creating regularity in traffic, the foundation of traffic sign pole help to reduce accidents and road accidents. This action ultimately helps to ensure road safety and traffic environments.
Proper use of traffic signs not only helps improve traffic and road regulation, but is also a way to increase the safety of drivers and pedestrians. These features and benefits make the traffic sign stand a vital tool on the road.
Basic technical specifications of traffic sign pole
When looking at the basic technical specifications of traffic signs, there are important details and numbers that need to be carefully considered. These details represent the ability and basic quality of traffic signals and are of particular importance in making a decision to purchase and use this equipment:
Accurate dimensions: The traffic sign base must have accurate dimensions to properly hold the signs and help them to be effective. The height, diameter, and general dimensions of the foundations are very important.
Materials: The base of traffic signs is usually made of resistant materials such as steel, aluminum or resistant plastic. The selected material should be a suitable alternative according to the weather and environmental conditions.
Technical characteristics: technical characteristics such as wind and rain resistance, high temperature tolerance or stability against the weight of traffic signs on the base are very important. These features must be precisely defined and enhanced.
Standards and compliance: The base of traffic signs must comply with the standards and regulations related to road safety and traffic. This is very important and necessary to ensure that the equipment is used safely and legally.
Appearance and colors: The base of traffic signs should be designed and have clear and authentic colors. Red, yellow, and white colors are commonly used in traffic signs and should be implemented correctly.
Ultimately, these details and technical specifications will give you the information you need to make better decisions about the use of traffic sign stands in different environments. Make sure you choose equipment that meets all your safety and operational needs and complies with relevant security standards.
It is recommended that you contact Sepahan Mahyar experts for advice and the best purchase offer, and after checking the project conditions, you will benefit from the best offers.
Basic applications of traffic sign poles: influence in different environments
These traffic signs with multiple features and various facilities have the ability to be used in different environments and have an effect on creating order in various places. Below are some of the basic uses of traffic signs in different environments:
Application on roads: The bases of traffic signs on the roads serve as the bases for installing guide signs and informing drivers. For example, pedestals help to install "speed limit", "road twist", and "traffic restriction zone" signs to better regulate traffic on roads.
Application in parking lots: In parking lots, these bases help to install guide signs, dividing stations, and entry and exit routes. These stations usually have special displays to direct drivers to different stations.
Application in construction environments: In construction environments, they install safety signs in different places. For example, they show construction facilities and help inform about safety routes and emergency exits.
Application in sports environments: In sports environments and stadiums, the bases of traffic signs help to install signs related to the entrance and exit routes of the audience, as well as to justify the signs. These signs are very important to create order in the stadiums.
Application in urban environments: In cities and urban environments, traffic sign bases help to install information boards about school safety zones, speed limits, and bike lanes. This information is very important to improve the safety of citizens and city drivers.
According to some mentioned applications, they are known as a multi-purpose and basic tool in traffic and security of different environments. Proper use of these foundations helps to improve traffic and safety in different environments.
Basic customization of traffic sign pole for specific needs
The traffic sign base with customization facilities can optimally respond to the specific and unique needs of customers. Here are some of the ways you can customize the traffic sign base for specific needs:
Special design of traffic sign pole: You can customize the design of traffic signs based on the specific needs of your environments. For example, if you need special symbols in a certain area, you can create a custom design.
Change color and appearance: You can change the colors and appearance of traffic signs to match the environment of your area. This action helps the signs to be more effective in the environment and drivers to get to know each other better.
Adjusting the height and dimensions: You can adjust the height and dimensions of the traffic sign posts according to the needs of your location. This way, the signs will fit best in your specific location.
Use of special materials: If you need special materials that are more resistant in your environment, use the suggestions of our experts to customize your base.
Adding special equipment: If needed, you can add special equipment such as cameras or sensors to the bases of traffic signs to transmit more information in the environment.
Example: Let's say a public transportation company has special needs to inform its passengers. They can customize traffic signal stands with large electronic screens to display bus arrival times or routes to best serve their customers. Traffic signal stand customization allows you to best match your unique needs. and perform better in certain environments.
Related posts
According to the field of activity of this company, it offers more related products related to safety and order to roads and urban development, which we suggest from the page Products Please visit us too.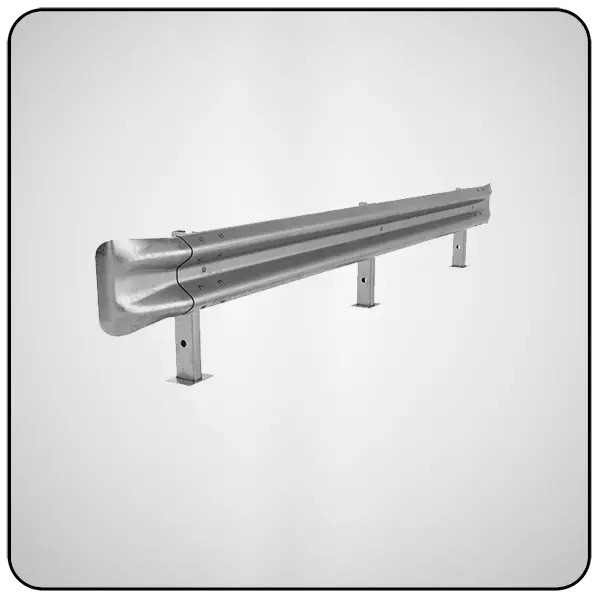 Guardrails are one of the basic components in the safety of roads and traffic environments.